(I) Full-fledged Campuses
SEGi University, Kota Damansara

SEGi College, Subang Jaya
SEGi College, Kuala Lumpur
SEGi College, Penang
SEGi College, Sarawak
The SEGi University and College campuses are strategically located within key city centres to capture significant target markets in Malaysia, including Sabah and Sarawak. Each SEGi campus located within the Klang Valley possesses their own strengths and is able to capture their own niche markets.The full-fledged built-campus at SEGi University, Kota Damansara is located within Greater KL has a capcity of more than 14,000 students. It boasts facilities such as on-campus residence halls, sports & recreational complex and state-of-the-art laboratories and learning facilities. The university college is also a clear leader in medicine, pharmacy, optometry, dentistry, allied health sciences and other technical programmes. These promise a complete learning environment which enables it to attract both local and international market.
SEGi College Subang Jaya which is strategically located within the Subang 'education belt' is positioned to attract both Malaysian and international students with its strengths in social sciences, education and creative arts and design. It is also an international hub for early childhood and childcare education. It has close to 6,000 students studying on its campus.
SEGi's multi-complex city campus located within the golden triangle of Kuala Lumpur city specialises in offering business, finance & accounting, information technology and professional courses for both full-time students, as well as working adults.
The SEGi branch campuses located in Penang and Sarawak are strategically located in the Pearl of the Orient and the major city of Kuching in East Malaysia respectively. Offering industry-driven diploma and twinning-degree programmes in various disciplines, they are poised to capture both the markets in Northern and East Malaysia, as well as take in students from abroad.
(II) Wide-range of Niche Programmes
SEGi is able to introduce and award its own degrees having achieved the status of University College. The education group will continue to launch niche programmes in various disciplines such as medical sciences, pharmacy, optometry and dentistry, as well as other high margin post-graduate degrees to increase its source of revenue and profitability. Apart from full-time students, SEGi also plans to capture part-time and adult learning markets by introducing some part-time Executive Diploma programmes as well as Bachelor and Master Degrees. In 2014, to further capture the same market segment, SEGI has also launched its online campus (PACE Online) which runs Masters and Bachelor Degrees, Executive Diplomas and Diplomas. SEGi offers programmes at certificate, diploma, bachelor and post-graduate degree programmes in the following disciplines:
• Business, Accountancy & Management
• Medicine
• Pharmacy
• Optometry & Vision Sciences
• Dentistry
• Nursing & Allied Health Sciences
• Engineering & Built Environment
• Creative Design & Arts
• Computing & Information Technology
• Education & Social Sciences
• Hotel & Tourism Management
• Law
• Post-Graduate degree programmes
(III) International Network of Top-Notch Partner Universities
SEGi actively collaborates with top-notch international universities to offer more choices of courses. Twinning programmes offers an alternative channel for students to pursue their foreign degree course completely in Malaysia. The Group is also involved in academic and curriculum development, staff exchange, as well as offering of joint scholarships and bursaries with its partner universities.
• University of Greenwich, UK
• University of London, UK
• York St John University, UK
• University of St Mark & St John, UK
• Cardiff University, UK
• University of Sunderland, UK
• University of Teesside, UK
• Abertay University, UK
• University of Southern Queensland, Australia
• Troy University, USA
The Group also works closely with local and international professional bodies in the areas of recognition, research and certification of its programmes.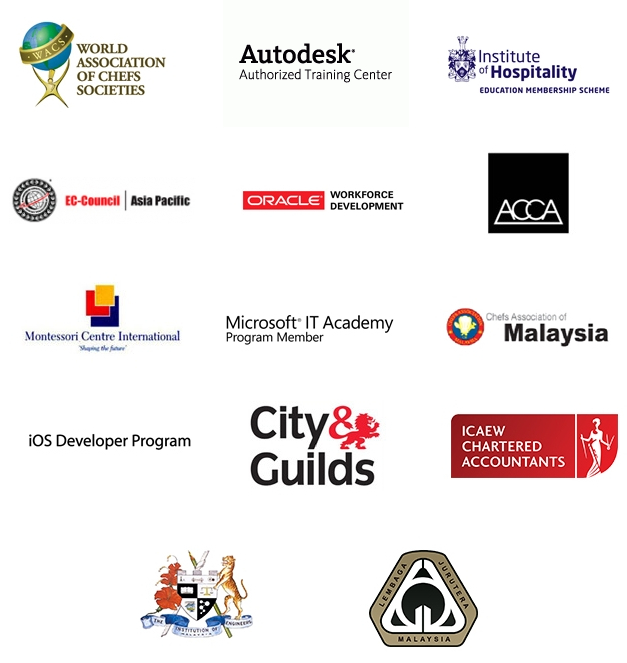 • World Association of Chefs Societies
• Autodesk Authorized Training Centre (ATC)
• Institute of Hospitality
• International Council of Electronic Commerce Consultants (EC-Council)
• Oracle Workforce Development Program (WDP)
• Association of Chartered Certified Accountants (ACCA)
• Montessori Centre International (MCI)
• Microsoft IT Academy (ITA)
• Chefs Association of Malaysia
• iOS Developer Program
• City & Guilds (C&G)
• Institution of Engineers Malaysia (IEM)
• Board of Engineers Malaysia (BEM)
• The Institute of Chartered Accountants in England and Wales
Business Units – Support Services & Corporate Learning
SEGi has incorporated business units to complement and provide value-added services for our key business.
a) I-Station Solutions, Platinum Icon, Milenium Optima and Bumi Intuisi: These MSC-status companies offer "total support" using state-of-the-art technology for students e-Learning, online social networking, registration and recruitment systems, as well as college management systems.
b) IFPA Resources Catering to the niche market of professional financial planning education – a pioneer offering the International Certified Financial Planner (CFP) programme; also provides routes into CPA Australia.