HEADQUARTERS
SEG International Bhd
No. 9, Jalan Teknologi, Taman Sains Selangor,
Kota Damansara PJU 5, 47810 Petaling Jaya, Selangor.
Toll : 1800-88-7344
Tel: 603-6287 3777
Fax: 603-6145 2755
Email: segi@investor.net.my
VISION & MISSION STATEMENTS
SEGi's Vision
SEGi will place quality education within the reach of willing minds and natural talents.
SEGi's Mission
To be the premier regional higher education provider offering quality employability-based international programmes on accessible terms, delivered through the most innovative technologies and student-centric learning techniques.
BACKGROUND
SEGi's history can be traced to its first education centre located in the heart of Kuala Lumpur in 1977. The Systematic Education Group then focused on providing quality professional qualifications that are within the reach of most people.
Since then, the Group has grown by leaps and bounds. At present, we are the largest education group with 20,000 student enrolment in 5 campuses across Klang Valley, Penang and Sarawak.
Today, SEGi has its flagship campus – SEGI University, located within Greater Kuala Lumpur at Kota Damansara, boasting state-of-the-art facilities that provide a complete learning experience for its students.
SEGi's upgrade to University College status in 2008 and to a full-fledged University in 2012 is a hallmark of the consistently-high quality education offered by the institution. As a University, SEGi is positioned to design and introduce its own programmes.
SEGi has laid the groundwork for its future success by developing and offering high ticket and niche courses in medical sciences, pharmacy, optometry and dentistry, as well as making its move into the international and adult learning segment.
SEGi is today poised for exponential and sustainable growth, building on the strong foundation it has established for 41 years.
SEGi ROADMAP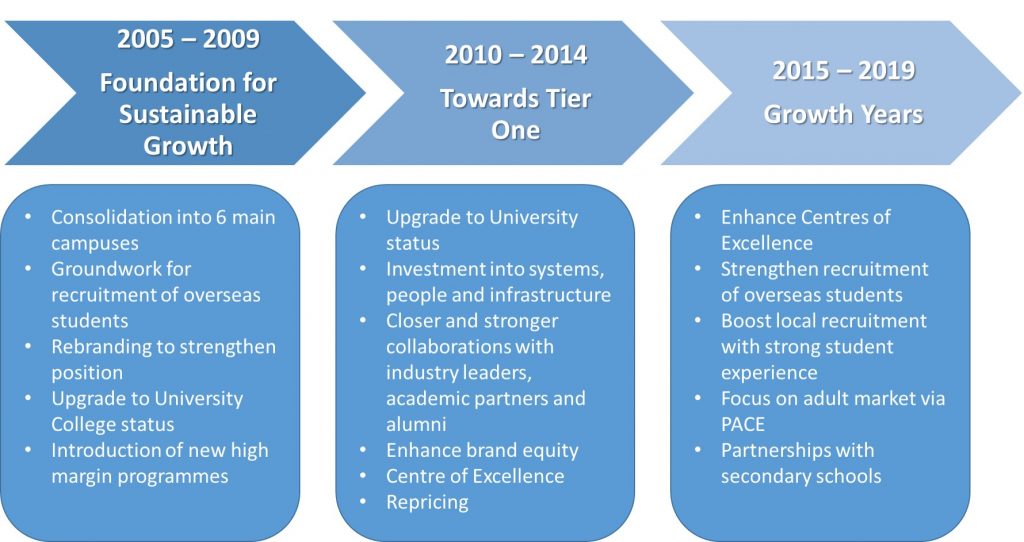 HISTORICAL MILESTONES
YEAR
MILESTONE
1977
The opening of Systematic Business Training Centre, marking the beginning of SEGi's history
1982
The opening of Systematic Institute of Information Technology
1989
The opening of Systematic College, Penang
1995
The listing of Systematic Education Group Berhad on the KLSE Second Board
2001
Merger with PRIME Group, which comprises PRIME Colleges, MSC International College, Summit International College, IBMS College & IFPA Resources
2002
Corporate name change to SEG International Berhad or SEGi to reflect the new identity and direction of the Group
2003
SEGi received KLSE Corporate Excellence Award
2004
SEGi was transferred to the Main Board of Bursa Malaysia Securities Berhad
2006
Repositioned all centres under the single brand name of "SEGi College"
2007
SEGi's main and largest campus, SEGi College Malaysia, opened in Kota Damansara
2008
Official launch of SEGi's flagship campus by Prime Minister.
SEGi's Kota Damansara campus was upgraded to University College status.
2010
Launch of niche and high margin programmes such as MBBS and optometry degrees
2011
Launched other niche high margin programmes such as Bach of Dental Surgery
2012
SEGi University College was upgraded to SEGi University
GROWTH PROSPECTS
SEGi's Growth in the Next Few Years will be Propelled by:
Introduction of new high margin programmes on a continuous basis
Increase of international students
Going into adult learning market in a big way
Operating on 2 or 3 shifts rather than a single shift, without the need to spend more on infrastructure costs
Leveraging on the Group's strengths of:
Availability of large and expanding capacities
Strong SEGi brand position as a top-notch Education Group
Full-fledged campuses as attraction
Wide suite of programmes in niche disciplines
Strengthened financials & consolidated operations
Government initiatives and encouragement for Education under the Economic Transformation Programme (ETP) and 10th Malaysia Plan
OTHER CORPORATE INFORMATION
Registered Office
6th Floor, SEGi University
No. 9, Jalan Teknologi Taman Sains Selangor
Kota Damansara, PJU 5, 47810 Petaling Jaya
Selangor Darul Ehsan

Tel :  603 6287 3752
Fax : 603 6145 2679

Company Secretaries
Chong Poh Yee (MIA 7620)
Hew Ling Sze (MAICSA 7010381)
Share Registrar
Symphony Share Registrars Sdn Bhd
Level 6, Symphony House
Pusat Dagangan Dana 1
Jalan PJU 1A/46, 47301 Petaling Jaya
Selangor Darul Ehsan

Tel:  603 7841 8000
Fax: 603 7841 8151 / 52

Auditors
Ernst & Young (EY)
Level 23A Menara Milenium
Jalan Damanlela, Pusat Bandar Damansara
50490 Kuala Lumpur

Tel:  603 7495 8000
Fax: 603 2095 5332